Business Online Banking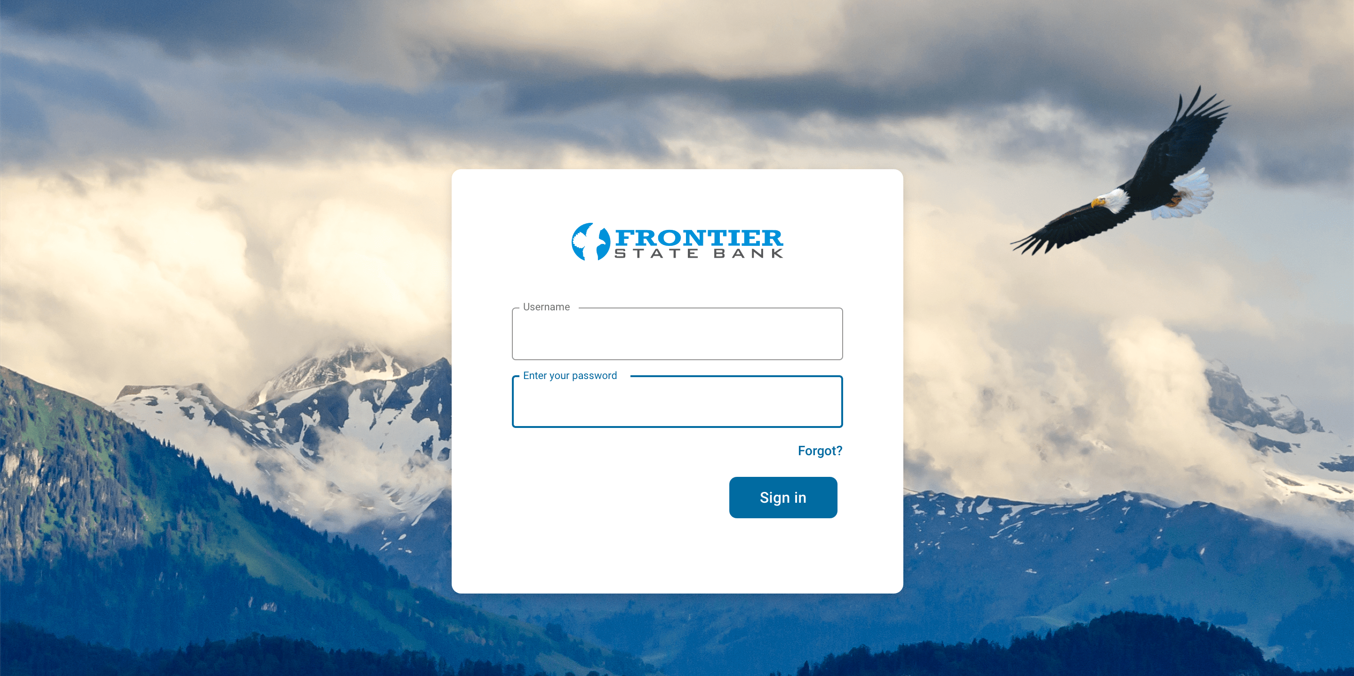 Make transfers, pay bills, manage your statements, and see all your account activity from your computer at home or on the go. Online Banking with features including Bill Pay, internal and external transfers, and electronic statements are all offered FREE* with a Frontier State Bank checking account. Here are just some of the many functions available online:
Easy online enrollment
Secure password-protected login
Balance inquiries on all Frontier State Bank accounts and loans
Transfer funds between FSB accounts
Transfer funds to a bank account at another bank
Set up account alerts
Download transaction history to Quicken or MS Money
Set up recurring payments
Plus many other features!
To set up your Online Banking Account, simply click on the enroll link.  You will be led through the online enrollment process.  You will need to provide a valid email address, a username and password, and some personal information so we can verify your identity and finish setting up your account for online access.  After submitting your online enrollment form and signing the Terms and Conditions Agreement, you will receive a notice via email of your successful enrollment.  If you have any questions about Online Banking or the enrollment process, please email us at customerservice@frontier-ok.com or call Customer Service at (405) 672-7831.
*Additional standard bank fees may apply for optional account services including stop payment orders, monthly paper statement, and non-sufficient funds charges. Complete deposit account disclosures containing terms and conditions are provided upon request and at account opening.
Safety and Security Information
Internet threats have changed significantly over the past several years. Sophisticated hacking techniques and growing organized cyber-criminal groups are increasingly targeting financial institutions, compromising security controls, and engaging in online account takeovers and fraudulent electronic funds transfers. In order to help ensure the security of your online transactions, please note:
Frontier State Bank will never e-mail, call or otherwise ask you for your user name, password or other electronic banking credentials.
You can help protect yourself by implementing risk control processes such as:
Making sure you choose an adequate username and password that, at a minimum, mixes in small case letters, upper case letters and numbers.
Changing your password every 90 days; the same password cannot be used more than once in a 12 month period.
Safeguarding your username and password information.
Making sure you have a firewall in place when conducting your financial transactions.
Logging off the system when you're finished conducting business; not just closing the page or "X" out of the system.
Monitoring your account activity on a regular basis.
Federal regulations provide consumers with some protections for electronic fund transfers. These regulations generally apply to accounts with Internet access. For example, these federal laws establish limits on a consumer's liability for unauthorized electronic fund transfers. They also provide specific steps you need to take to help resolve an error with your account. Note, however, that in order to take advantage of these protections, you must act in a timely manner. Make sure you notify us immediately if you believe your access information has been stolen or compromised. Also, review your account activity and periodic statements and promptly report any errors or unauthorized transactions. See the Electronic Funds Transfer disclosures that were provided at account opening for more information on these types of protection. If you no longer have access to the disclosures, ask us and we will gladly provide you with a copy.
If you become aware of suspicious account activity, you should immediately contact the authorities and contact us at (405) 672-7831.
Commercial online banking customers should be aware of potential risks within their businesses. A few things business owners should be alert for:
Passwords being written down and left out in the open.
The use of old or inadequate passwords.
The possibility of internal fraud or theft.
Delays in terminating the rights of former employees.
The lack of dual control or other checks and balances over individual access to online transaction capabilities.
An evaluation of controls your business uses may include:

Using password protected software in which to store passwords.
Conducting employee background checks.
Initiating a policy and process to terminate access for former employees.
Segregating duties among two or more people so no one person full access or control.
Using firewalls to protect from outside intrusion or hackers.
How We Protect Your Online Security
The security of your financial information is one of Frontier State Bank's most important responsibilities. We maintain our Internet banking platform using stringent information security guidelines including customer authentication1, TLS2, encryption software3, high-end firewalls4, and automatic log-off5 to ensure our customer's information is safe and secure.
1Authentication ensures that you, the legitimate user is communicating with us and not a fraudster who does not have authority to access your online accounts.
2TLS stands for "Transport Layer Security." This technology allows users to establish sessions with secure Internet sites, meaning they have minimal risk of external violation. Once inside the Internet Banking site, our use of TLS technology keeps you and your account information secure.
3Encryption turns words and phrases into coded language. All of your online activities during an Internet banking session become a string of unrecognizable numbers before entering the Internet. We employ the strongest forms of cryptography that are commercially available for use over the Internet, so your account information will read as gibberish to everyone but you and the bank.
4High-end firewalls protect our computer systems interacting with the Internet against unauthorized access by outside individuals or networks.
5Automatic log off is done automatically after 20 minutes of inactivity during an Internet banking session. So if you forget to log off after your online session, we will do this for you to prevent anyone else from accessing your account.
From the moment account information leaves your computer to the time it enters our Internet banking system; we take numerous steps to ensure your information is secure in cyberspace. We make sure only authorized people with secure browsers can access our system.
You must enter your password, and we must verify it before you are allowed to access your accounts. If you are not using the computer normally utilized to access your account (the computer you are using has a different IP address), we will ask you security questions to verify your identity before allowing you to access Online Banking.
Only browsers supporting the TLS security protocol supporting 256bit encryption can be used to log on to our system.  Once logged in, our customers are provided with a safe and secure connection for online banking.  Since TLS uses a digital certificate, plus encryption for communication between your browser and the Internet banking system, we can provide you with a safe and secure connection for online banking.  TLS will use the highest level of encryption supported by your browser therefore we strongly recommend keeping your browser patched to the latest version.